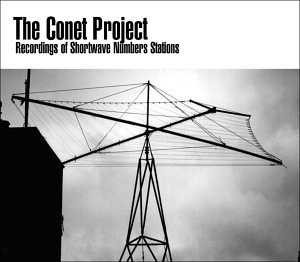 In an earlier post, I wrote about Icebreaker (sometimes Icebreaker international) and their concept albums about NATO and free, global trade. Well, I appreciate these albums, both because of the music itself and the way the concept is transformed into music (I don't know, maybe a distinction like that is artificial).
Now, I happened to come across a review of The conet project. I downloaded it, and started listening. There's four records, and the first track begins with shortwave radio noise, an eerie music box melody, and a girl counting from 1 to 5 in German and/or Swedish. The next tracks are similar: noise, beeps, a voice counting, or calling out random words that resemble letters. And there's some music, always primitive, always very, very spooky. In a weird way, it's listenable, even, if you allow me to say so, catchy, captivating, fascinating. An example: in "New star broadcasting" (from disc 1) a melody drifts in and out of the shortwave radio noise (which is, this time, quite harsh to the ears), a voice says something, but it's difficult to make out in which language she is talking. The voices of the messages sound all-to-human and non-human (robotic) at the same time. It's not Oasis, but, then again, what is? So, what's the deal?
From the all-knowing Wikipedia:

The Conet Project: Recordings of Shortwave Numbers Stations is a four-CD set of recordings of numbers stations, mysterious shortwave radio stations of uncertain origin believed to be operated by government agencies to communicate with spies "in the field". The collection was released by England's Irdial-Discs record label in 1997, based on the work of numbers station enthusiast Akin Fernandez.
One night in 1992, one of the makers of this album tuned into some strange shortwave radio messages and that's how the idea was born (
source
).
And it is this story that makes the music really interesting. It is immediately situated in military - & political history. In the frenzy of the cold war. One wonders: what the hell are the spies told by means of these coded messages? To go kill somebody? What's going on with the music, why is it thrown in there in the first place? Without knowing anything about the exact messages, it's an uncanny experience to listen to it.
"with a shortwave broadcast, anybody can listen, which means that nobody knows who the message is intended for."